Anto's Hometown Race, South Africa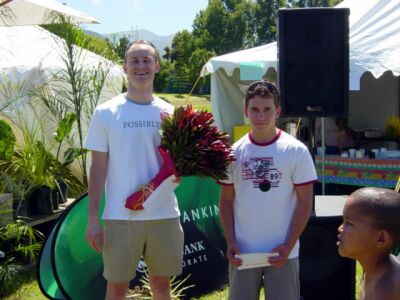 Just received a mail from Anto to tell me that all that winter training with the Thursday Group paid off when he won his hometown race in South Africa, which he went home specially to take part in. I spoke with him before he went and this was his target all winter and every 'scatter 'up to the tea stop at Tara was a rehearsal for that event. He has won this event before and was very familiar with the course. The race went pretty much the way he thought it would and I know how much he wanted to win it.
Well done Anto ………..not quite as cold over there as some of those January spins !!!!! Hugh
Update 8th March : Received another mail from Anto. This race was the pre race – race , a 40k event called the Ou Bos Race and next Sundays (14th Mar) 110k event in Cape Town is the main event. Best of Luck in the big one!!!!!
6th March, Ou Bos Race, 40km
So finally after another year of training I got to go back home for a holiday and hopefully complete the Pick & Pay Argus Cycle Tour in the 3 hour mark.

Luckily there was a race in my home town a week before the tour so that I could test fitness level. I was told before hand about all the teams entering, the tactics they have been using the past couple years to win the race etc. So I had an idea what to expect in the race.

Race day was a beautiful sunny day with an average temperature of about 27 degrees, with about 300 people showing up for the event. I have to be honest and say that I was rather on my nerves as I did not know how fit everyone in S.A was and if indeed I was fit enough to even tag along & not get dropped.

The race started with a slight downhill followed by a right turn into a long stretch of about 6km before we hit the airport to turn right into a dreaded 2km climb. Once we hit the first turn the teams started with their tactics jumping the bunch 3 times, hitting speeds of up to 51km/h at some stages and by the time we hit the airport the main group was nowhere to be seen and all that remained was our bunch of about 10 people. Halfway up the hill another attack came of which a single get away was aloud. The temptation was there to chase him down but I knew we as a bunch would catch him eventually. After the hill it was fairly steady riding with only one hill remaining before the turn point. On the top of the hill another attack came but he did not have enough strength to go all the way so he was pulled back. We eventually caught the leader at the turn point and we regrouped.

Nothing much happened on the way back except two attacks. I was sitting in 3rd position at the time the attack came. Luckily I could counter it and just as we sat down he attacked again, which was also unsuccessful. After realising that he wasn't going to ride me off he gave way and I was left to pace. At the back I just heard "wait till we get to Sinksa Brug" which is the 2km climb before the 6km final stretch. So already knowing what was going to happen I took it easy but never the less got my nerves worked up because I was expecting the worst. Half way up the hill he made his move & I countered. I managed to easily stay with him and by the time we hit the top we had opened a gap between us and the bunch. At that stage, I hit a cat eye in the road which punctured my wheel. Luckily it was only a slow puncture and I was left praying for it to just last till we get to the finish. I knew that if I had to stop my race and any hope of winning was over.

About 3km before the finish the bunch caught us and all that was left was a slight drag followed by and small hill and the home stretch. The bunch split up across the road and I sat back in about 6th position checking everyone out. Everyone was riding big gears and I was still spinning in small blade. I realised I would out spin long before the finish in the sprint so switched over. On the small uphill before the final stretch the gears started dropping so I knew something was going to happen and I was looking for a good position to counter. I was either going left or taking them from the right. About two blocks before the finish line the sprint was started so I countered and came from right hand side. I managed to pass everyone and was in the 1st place. Not knowing how close my closest rival was I had to look behind me 3 times just to make sure but my effort was good enough and I won the race with slow puncture and all.

I'm happy with ride. It went well and I was particularly happy that I won because my parents really wanted me to win. With all the talk of cycling with you guys throughout the year they were expecting me to be fit and in there own way hoping for a win. So, this one is for Swords Cycle Club & all you guys as well as my parents!

This Sunday, the 14th, is my big ride, the Cape Argus Cycle Tour – 109km ride. It is the one that I've been training for with the hope to completing it in 3hr. So wish me luck guys & keep on pedalling. Remember, pain is inevitable… suffering is optional!