Bike Talk With… Anthony McMahon
What was your introduction to cycling? (First Club, first races, first result)
As a young lad I used to watch the Crit around Skerries and this made a lasting impression on me. I had always huge admiration for the sport and when my rugby playing days finished I started cycling in earnest. Eddie Connolly was the local hero in cycling terms and he encouraged me into the sport at a time when Joe McNally was also getting back into it. We all worked together and joined Balbriggan CC.
Your first big win?
In my first year I won the Visitors Prize in the Swords League and the next year I joined Swords because I wanted to have a crack at the Overall. I won that a few years later and I think I was the last 'scratchman' (as I was at the time) to win the Overall?
Your best season?
Probably 2003. Five wins and quite a few placings.
Career highlights?
One that sticks out was a win in the Vets down in Roundwood. Got away early and came in three and a half minutes clear. Also in 2003 I won three Vets Road Races in a row starting with the IVCA Age Related Championship , then in following Race I got clear with Jimmy Lally & Hugh Davis and jumped clear from the two sprinters 4 miles out and my third win was on a 'hardmans' course down at the Curragh. That day I was in a break of three, the other riders both from Orwell. I Split them on the last climb and beat Ronnie in the sprint. This was a period of great form, a time when all the training paid off, during which I had the strength to race the way I like to race, which is from the gun attacking all the way.
My only outright win on the Open Circuit was the Andy Mahon Memorial.
What performance are you most proud of?
I got a great kick out of Pat Halpins win in The Vets 40-49 C/ship this year. Having said that, I enjoyed winning it myself the year before, but Pats win was great because it was how the whole race developed.
Photo : Anto McMahon & Pat Halpin >>
The Ras (or Gorey) how many and best performance?
In my early years I did have a hankering to do the Ras but its a different race now! I did the Gorey just once and I don't have good memories of it. I crashed the week before down in Carlow and crashed again in the Gorey (painful memories!).
Any good memories of the Park
Only rode in the park once and not very well I might add. Its something that needs practice.
Memories of racing (or touring) overseas?
Does coming down Bre Hill in the Isle of Mann on a Tandem count ?
When things go wrong (Or the one that got away)?
I suppose one that's fresh in my mind is this year in Kildare. For once I was undergeared which was unusual as its more usual for me to overgear. It was a 2-up sprint with Se Weston after we were clear for much of the race.
Best rider (amateur) that you have ridden against?
Phil Cassidy. He amazes me. I remember riding with him in a race in Balbriggan. He punctured out of the break that day. Wheel change and back up to the break.
Best Irish sprinter you've competed against?
Not exactly my area! I like to get away on my own or in a very small break. Simon Whelan is the fastest I've sprinted against, but Sean Lally tactically & technically rates very highly. Also Hugh Davis – an honest rider and sprints very well.
Biggest influences in your career?
The Club itself, and all my teammates. I could name so many of them, Liam, the two Pats, Joe, and Sean all who have encouraged me and not forgetting the roasting I would get from time to time regarding my tactics over a few pints in Ballyboughal ! And some 'words of wisdom' from Hugh from time to time!
How long with Swords?
With the Club now for about 10 years
Favourite present day Pro's?
Armstrong, Hincappie, Hamilton
Favourite Pro sprinter?
Cippolini. Maybe just past his best but always delivered when his train put him in position.
Best one day Pro race?
It has to be Paris Robaix. Maybe it's because its more like the roads we race & train on! (Potholes!)
Present bike?
I ride a custom built Raparee.
Race day nutrition (Breakfast — mid race drinks — recovery etc)?
Race day (and everyday) starts with a bowl of Fruit n'Fibre. Nothing extra on the day of a race but I will get a bottle down my neck before the start. I used to use High-5 but am now using an energy drink I get off Aidan Hammond (Power Bar).
What do you love most about cycling?
Hard racing!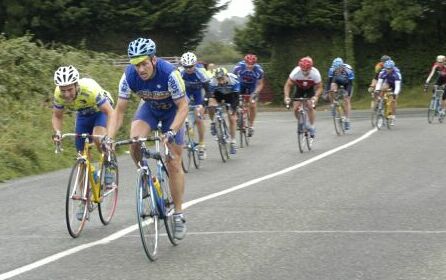 Interested in any other sports?
I played Rugby from the age of 10 for 22 years. Various positions from Scrum Half to Wing Forward and I now coach U8's & U12's.
Favourite Cycling Magazine?
Not a great man for the magazines (I prefer to be out there), but I look at the Cycling weekly from time to time.
What advise would you give to 1st year racer?
Try hard and when you get knocked down… get up & try harder!
How can they then turn good performances into good results?
Listen to people and PMA (Positive Mental Attitude!) And a little bit of Hugh's Sports Psychology!
Favourite tea stop
Dont Stop for Tea!
Most enjoyable Tour (non racing)
Wicklow 200. A great day out!
PS (from Hugh) Some of our riders have been immortalised in verse but we never quite finished Anto's one…
"There was a young man a called Anto
Whose antics should put him in Panto"