Controversy in Corkagh as Holland Hunts Handley
Wednesday, 29th April 2015, Corkagh Park.
On a windy night in Corkagh Park, a very close finish sparked some heated post-race discussion in the scratch/semi-scratch event. Is possible to put any more alliteration into a title for race report? The on-lookers could only guess as to what headline would be up on the website.
Of course, the real questions being asked on the night were; had Holland over-hauled Connolly? Could Connolly have clinched it? Had Handley hammered too hard? The questions were answered by some hard evidence, there for all to see.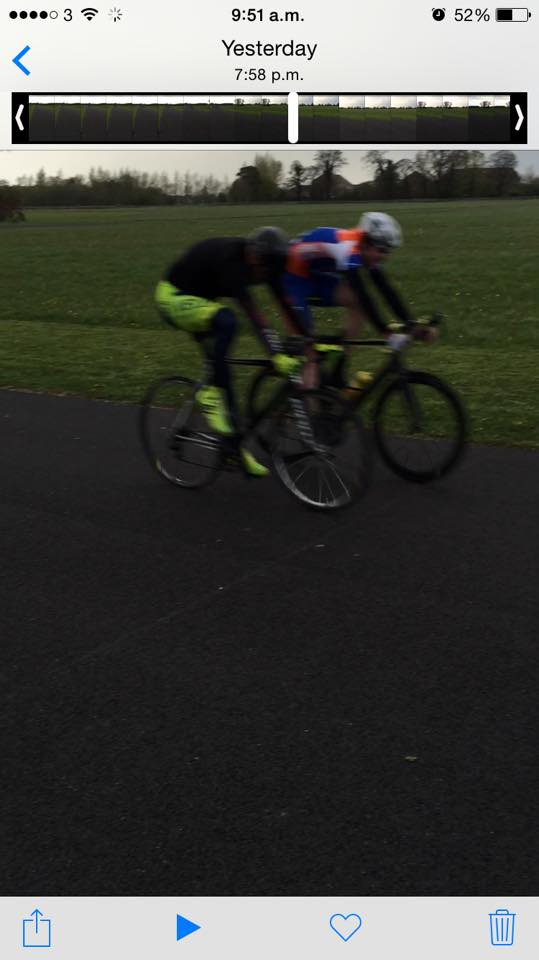 It's difficult to make out, but there is a line in that picture, and Johnny Holland's wheel is on it before Eoghan's. Michael Wall took third spot. Case closed.
But what about Handley's hopeful heroics? Well, take a look and judge for yourself…
We pick up the action almost 18 minutes into the video when Ciarán launches an attack with about 4 laps left to go. Someone was clearly feeling strong and wanted to win alone, the hard way.

Could he stay away? We already know the answer, but it is still tense to watch. His heart said yes, but his legs and the group behind said no. The inevitable happens at about 22.40 into the video as he is overhauled at almost the very last corner of the race when he gets to watch his dreams disappear along with the rear wheels of the riders ahead.
Don't worry, Ciarán, there are five more races in Corkagh for you to experiment in.
Full results available here.