Stewards' Enquiry after Duleek Divilment
Since the race was held within a few furlongs of Bellewstown Race Course we are on an equestrian buzz. The other headline contender was: "Never look a gift horse in the mouth".
The June 3rd course for Duleek was a left-handed track covering 209 furlongs (that's about 42km to you and me, or just under 4 laps).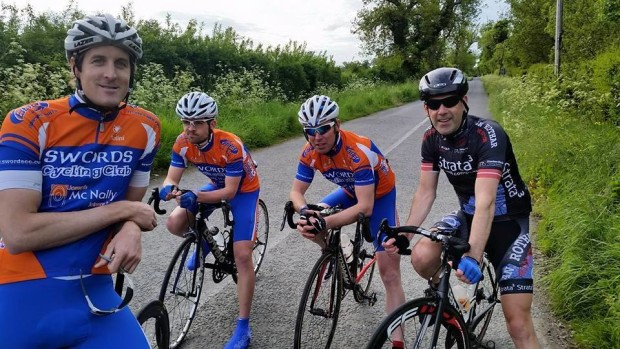 Why the long face, Derek?
Well, no one can ever accuse Alan Mulvey of looking a gift horse in the mouth. The going was certainly good for him. Under some questionable starting orders he was let go with the limit group and riding with the bit between his teeth he broke with over a lap and a half to go, leaving his followers floundering in his wake and showing us that he is the front-runner. He only ever had the finish line in mind (although I heard that was hard to find)… <insert blinkers pun here, I'm tired from a day of DIY and can't work it in myself.> In the end he won by… lengths (sure what else was I going to say)… many, many lengths.
The finish line.
What about the also-rans in the scratch group? The fine thoroughbreds that make up that group worked like donkeys but never got within an ass's roar of that gift horse and had to settle for a gallop for… oh I don't know, 10th place?
Back in the paddocks there was much ado to work out how a semi-limit rider was sent off with limit and if the result should stand. In the end the result was judged legal. Surely it behooves us not to meddle with the groups on the start line.