SwordsCC at L'Etape 2018
Three SwordsCC members, Colm Grace, Alan Kelly and Keith "Mountain Goat" Sharkey, took on this years L'Etape Sportive and this is their story….
Although I'd set my alarm for 5:30am, I was awake before it went off. I'm pretty sure 15,000 other riders were also up before their alarms went off too due to the anticipation of what lay ahead of us. I was in pen no.14 with a start time of 8:15, so I had plenty of time to get into my pen, as our hotel was less then 2k away. I wanted to be up to see my two club mates Colm Grace and Keith Sharkey off, as they were in different pens with earlier start times. I wasn't early enough as Keith had already left the hotel for his 7am start in Pen no. 5. Of the three of us, Keith is the mountain goat, so I kinda knew I'd probably have to wait until we got back to our hotel after the event to hear how he got on. Sure enough that's what happened, as he was finished at least an hour or more before me and as his phone had died, we couldn't contact each other at the finish.
So myself and Colm left the hotel at 6:30am for the short, 2k spin to the start pens. My wife Natalie was also on this trip and she accompanied us down to the start and acted as our official photographer for the weekend. It was perfect timing, as pen no.14 opened as I arrived. I wished Colm the best of luck and he headed off to pen no. 9 for his 7:45am start.
I got a spot right at the front of my pen which is where I wanted to be. I wanted to have a clear road in front of me when the race started, which I feel is a safest place to be as I wanted a clear road in front of me once the race started. So right on time, at 8:15 we were off and we were cheered off by a large crowd and AC/DC music!
The first 30k were flat with spectacular views of the lake and before I knew it we were on the first climb of the day, which was uncategorised and not listed on the Etape map! At 2k long with 147meters elevation, The Col de Bluffy was nothing compared to the listed climbs but a gentle reminder of what lay ahead.
At the 45k we took the left turn to start climbing the Col de la Croix Fry. At 12.8k, this is the longest climb of the day with an average gradient of 6.5% which is a really nice climb.
Not too difficult but I was surprised to see some people walking already! I guess some of them must be still out there completing the route! The decent off this climb is on good roads and very enjoyable. So enjoyable, I shot past the entrance to the feed station at the 61k mark! I wasn't too worried as the travel company I was with (Sports Tours Int.) had their own feed station at the 70k mark, so I kept going until I reached it. Once there I re stocked my bottles and then set off for the Monte du Plateau Des Glieres.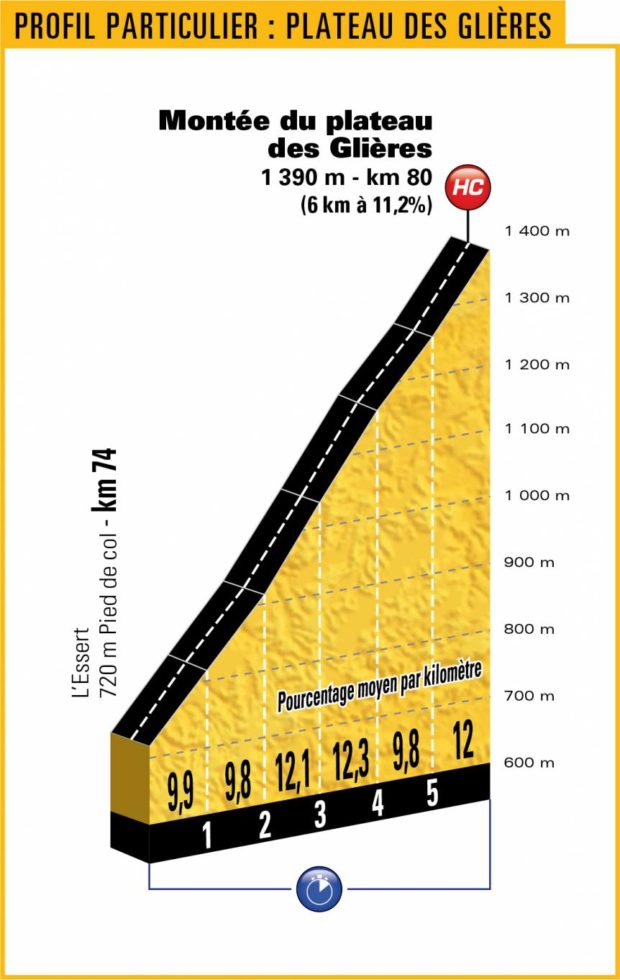 The Gliere climb was the one I was most concerned about. Although it's "only" 6k long, its average gradient is 11%. Before July 8th, 2018, I didn't really appreciate just how steep 11% really is. This road is steep, it's narrow and it twists and turns its way up through trees. It didn't take me long to realise that my 36×28 gear was not low enough and I found my cadence was way too slow. When this is combined with a narrow road, clogged with other riders (quite a few walking) it made for very slow progress. After 3k, I came to a hairpin bend and made the decision that it was safer to stop and stand to the side and take a drink and eat something, than try and do this while crawling along at 6kph, surrounded by other riders. The road at this hairpin was flat enough that I was able to get going again relatively easily and crawl my way up for another 2 or 3k, when the road levelled out a bit. I stopped here also and again took a drink and eat an energy bar. I then crawled my way to the top and once at the top, rolled through the crowds and continued along the 2k section of gravel. This section was relatively straightforward as the gravel was quite compact and as long as you took it easy and didn't stray into the loose stuff, it wasn't a problem. At the end of the gravel section, there was a water station and again I stopped here to refill my bottles. I didn't hang around and as soon as I had two full bottles, I started down the descent. This decent was fast with a few tight turns, but enjoyable none the less.
At the 95k mark, I pulled into the food stop in Fulliere. A glass of coca-cola, two caramel waffles, half a banana and a slice of very dry,bland cake later, I left the feed station and started another uncategorised climb, the Col de Fleuries. Not really a climb it's more of a long drag really. It's followed by a descent and a fairly flat section for the next 20k or so. It was at this point I checked my Garmin and when I read that my total elevation gain after 130k was only 2000meters, I realised that once the road starts going up again, it's going to be tough as I knew I had another 2000meters to climb in only 25k!
Sports Tours Int. had a feed station a few K before the start of Col de Romme. As I pulled in I met my clubmate Colm. He was having stomach problems and was just about to leave the feed station. He waited for me to refill my bottles and we set off together.
The Col de Romme is a brute of a climb! It's 9k long with an average gradient of 9%, it's a long hard slog from the moment it starts right up to the summit itself. After 3 or 4K, I knew I was in trouble. I was beginning to feel light headed and I was beginning to get a "pins and needles" sensation in my fingers. I had these symptoms before (on the Marmotte) and I knew I needed to eat and drink something to get my blood sugar levels back up. The gradient is so steep I wasn't confident I could do this while moving, so I stopped at a left hand hairpin, got off the bike and sat on a low wall. Colm arrived at the same spot a minute or two later and he too stopped. We both sat there for a few minutes more and once we both felt our heart rates drop a bit and once I no longer had the "pins and needles" feeling , we both stood up and walked a few meters. Colm was ahead of me at this point and I remounted my bike and set off again. After about 1k, I saw Colm sitting beside the road. As I passed I asked him if he was ok and did he need any food/gels etc. He said he was ok and urged me to keep going, which I did. After what seemed like forever, the summit finally came into view. I knew the gradient eased near the top, and it couldn't come quick enough for me. As soon as I crossed the timing mat at the summit, I was tempted to stop again, but I felt I had already stopped too many times by now and stopping was only going to make a very long day even longer, so I kept going. Once over the summit, the road started to descend, but this was short lived, as there was a plateau which had to be crossed before the descent towards the Colombiere climb started. Naturally this plateau was actually a false flat and added a few more meters of climbing!
The descent off the Col de Romme is short and not too technical, which was just what you need when your tired and longing for this day to end! Once I arrived in the feed station at Le Reposoir, I hung around a bit longer than I should have,as I was hoping Colm would arrive before I left. He didn't arrive and I felt bad continuing but as the three of us had agreed that we would text each other if we couldn't continue or once we crossed the finish line, I figured he was simply recovering and taking it easy on the descent.
Just like the Col de Romme, the Col de Colombiere starts off steep, continues steep and finishes off steep! At 7.5k in length, with an average gradient of 9% with a total elevation gain of 650meters, this climb hurts and keeps hurting until the very top! Nearing the summit, it reminded me of the Wicklow Gap in that you can see the summit from a long way off. One benefit of my late start time was that I was now climbing this climb in the shade, which is a huge advantage. Mind you it was still a bitch of a climb and just like all the other climbs on this Etape, I found myself crawling along just above walking pace while passing other riders lying in the grass on the side of the road, riders stopped by the side of the road and vomiting into the ditch, riders slumped over their handlebars holding their last bottle of water like their life depended on it and of course, countless other riders walking while using their bikes as a crutch to lean on. With about 100 meters to go to the summit and knowing that once I got to the summit, there was only a 16k descent to the finish, I upped the pace a bit and punched on to the summit. There was a water stop at the summit and I was surprised to see so many riders stopped here! I mean, with only 16k to the finish and it's all downhill, why would anyone stop? I had no intention of stopping now and I rolled over the summit, flicked the chain up onto the big ring and down onto the 11 sprocket and went for it! I can't climb hills to save my life, but I can descent and descend quickly. I'm no Nibali, but I can confirm I passed every cyclist I came across on that descent. Once I made the last left turn to the finish, one guy did try to catch me as we raced for the finish, but while he came close, he was blocked by slower cyclists and had to slow down. So l finished with only 8000 odd riders ahead of me! 🙂
Once you cross the line and dismount, you are met by Etape staff who congratulate you and put the finishers medal around your neck. Then you follow the crowd and walk towards the bike park, where you can leave your bike and then head to the "Pasta Party". As you can imagine, with 15,000 participants, there is quite a queue for the pasta, but it moves pretty quickly and the whole process is quite efficient. As I was in the queue, I got a text from Colm that he had finished. I replied that I was in the queue for the pasta and told him to come along. He replied that he would but was going to "lie down for a bit!" 🙂
So the three of us had finished! We all achieved our own personal goals and once we were all back at the hotel in Annecy, we had a well deserved dinner and beer!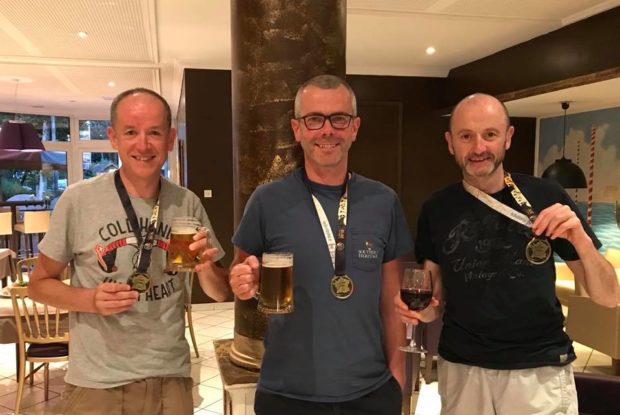 A big thank you to Natalie for the photo's and for putting up with our constant "bike talk" over the weekend.
So in numbers, here's my Etape:
Official time: 9:40:33
Moving time: 8:35:14
https://www.strava.com/activities/1689698141
Number of gels consumed: 5
Number of High 5 tablets : 4
Number of energy bars: 6
Number of banana's : 4
Number of waffles: 2
Number of slices of cake: 1
Litres of water: 4 (at least)
High point:
Has to be the 16k descent to the finish line and the beers in the hotel later that night.
Video 1 ( descending the Col de Colombiere)
Video 2 ( The last 1k dash to the finish )
Low point:
Has to be the Col De Romme…God that climb nearly killed me.